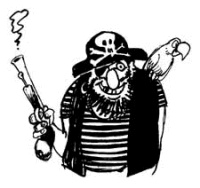 The producers of
Good Copy, Bad Copy
, a new documentary that analyzes the current state of global music piracy, have decided to release the movie for free, and via
torrents
in
XviD
format.
The movie goes in depth on the line between "fair use" and piracy and includes many interviews, including some notable ones like DJ Danger Mouse, the creator of the "Grey Album", Lawerence Lessig (founder of Creative Commons), the admins of
The Pirate Bay
, and an official from the
MPAA
.
Although we cannot directly link to the
torrent
, it can be found at The Pirate Bay as well as on the official website
here
.
Source:
Slashdot