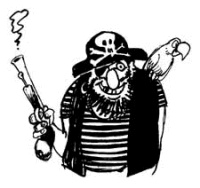 A few months ago, we heard a report from
Twentieth Century Fox
that said that
Canada
was a "haven for pirates" and that over 50 percent of all camcorder recorded movies came from the country. Although there is no way those facts are completely true, it started a widespread panic for Canadian officials.
In an effort to cut down on that large number, Canadian theaters are now employing many of the same tactics that have been seen in American theaters, including a $500 CAD reward to an employee that catches a "pirate" in the act.
Serge Corriveau, Director of the Canadian Motion Picture Distributors Association, talked about a few of the new tactics,
"Having people searching knapsacks and people going up and down the aisles once the movie's started to see if they can spot somebody camcording. You can see also people with night-vision goggles searching through the crowd trying to see if they can find something."
Corriveau even said there would be metal detectors used for pre-screenings and large first day screenings.
Source:
TF