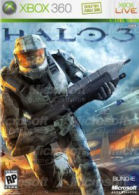 Microsoft
marketing boss Chris Di Cesare has made some bold statements about the much hyped, upcoming game
Halo 3
saying that he believes the game can sell more in one day then the top box office films have made in their opening weekends.
He said the target for the first day of sales was 155 million USD which would beat out the 151 million opening weekend of
Spider-Man 3
.
"When we opened to USD 125 million [last time], that really caught a lot of people's attention. It showed that videogames were no longer that thing that kids play in their basement,
" Chris Di Cesare said.
"We're confident we can do better."
Di Cesare does concede that the comparison isn't entirely fair due to the high prices of
Xbox 360
games as compared to a movie ticket, but still says the figures are too large to ignore.


"I recognize it's not apples to apples. But it's big business any way you cut it,"
added Di Cesare.
Microsoft recently announced that they had over 1 million pre-orders for the game in the US, and the advertising push for the game has been huge prompting many to believe that the game will shatter even the highest expectations.
Source:
GI.biz