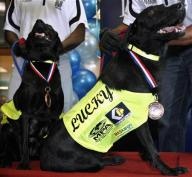 As I look over at my own dog who's only real talent comprised in his hyper-sensitive nose is the ability to accelerate faster than human reaction straight into an unsuspecting crotch, I wonder where did I go wrong. Lucky and Flo, the two famed dogs trained to sniff out the chemicals used in copying DVDs are in the spotlight in Kuala Lumpur, Malaysia. They both have received awards from the Malaysian government for their efforts in sniffing out and crippling movie pirates during their five-month campaign.
Lucky and Flo mark a momentous occasion as being the first animals ever to receive outstanding service awards for finding discs stockpiled by pirates. The
Motion Picture Association
was on hand to express its gratitude. The two dogs led officials to 26 separate arrests and the seizure of over $6 million worth of illegal discs. "
The dogs have proven to be a major asset in our fight against the pirates and we intend to continue what Lucky and Flo have set in motion,
" stated S Veerasingam, Malaysia's deputy minister for domestic trade and consumer affairs.
Malaysia has long been in the eyes of the U.S. for its rampant piracy and as such, the government stepped up its efforts to reduce piracy from that region so that it could handle its negotiations of free-trade pact with the U.S. much easier.
Lucky and Flo's success has got the Malaysian government thinking about setting up their own canine task force against piracy. The
MPA
, in response, stated that it plans to donate two new dogs to help their cause by the end of this year. In retaliation, movie pirating groups put a bounty of 100,000 ringgit ($28,560) on Lucky and Flo. The dogs have both been closely guarded since the threat.
So as the dogs bask in their own glory down in the South Pacific, they should sleep better on their sheepskin pillows knowing they helped make a dent in the claimed $1.2 billion loss the MPA lost last year in Asia-Pacific due to movie piracy. They'll look upon their medals and and smile happily, before resuming attempts to find pirated discs contained in other canines rectums.
Source:
Reuters