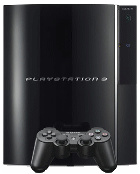 Last month,
Sony
announced they were killing off their 20GB model of the
PlayStation 3
and dropping the price on the 60GB model. At the same point, Sony introduced an 80GB model for $599 USD which included Motorstorm the game.
The price cut ended up giving Sony a sales spike on the console, but reports and rumors surfaced that the 60GB model was being discontinued and the end of the road has finally come for the 60GB model
Sony has stated that all inventory for the unit is now either on route to retail shelves or already sitting there.
"We no longer have any inventory in SCEA warehouses. All inventory has been purchased and shipped to retailers,"
said SCEA communications officer Dave Karraker.
"We don't have visibility as to if that is on their store shelves or in their warehouses at this time. However, based on inventory reports from our retailers, there is ample supply still left in the channel."
Once the remaining stock finishes up that will be the end of the model and leave the 80GB unit as the only remaining PS3. At that point, Sony should have a dilemma seeing as how the price drop on previous models helped boost sales so much. We wont know until that day hits however.
"We won't be making any further announcements regarding our PS3 model hardware strategy in North America until the 60GB model is exhausted and market conditions are evaluated,"
said a Sony representative.
Source:
Dailytech