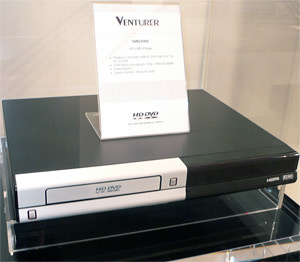 HD DVD players priced under $200 are expected from Chinese company Venturer Electronics by the fourth quarter of this year.
Venturer's
SHD7000 will be priced at $199, according to a company representative, which would make it the cheapest stand-alone HD
DVD
player available today.
A statement from
Venturer
, whose North American headquarters is in Markham, Ontario, touts the player
"to be one of the lowest among entry-level HD DVD players."
There has been speculation for months that Chinese manufacturers would be producing players with low enough price tags to compete with standard DVD players for consumer sales. Prior to now, no announcements regarding these players had been made, although several media reports have been shot down by Wal-Mart, the company generally believed to be key to introducing HD DVD technology to the masses in the United States.
Of course, a lower priced HD DVD player won't provide it's own HD display or replace anyone's movies with new HD versions, assuming they're not movies from
Blu-ray
only studios.
It also probably won't convince consumers that it's worth their money to invest in the new technology they probably aren't even familiar enough with to pick it out at their local discount store.
Source:
Video Business