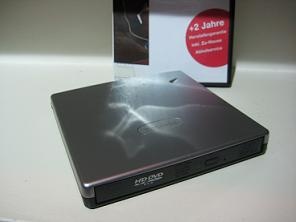 At the
IFA
show in berlin,
Toshiba
unveiled its latest external
HD DVD
writer and Super-Multi drives for the PC. As of now, the drives are lacking of interesting names and are known only as
HD DVD
-Writer and HD
DVD
Super-Multi.
With the exception of the names, the drives are actually pretty impressive. They are very slim, 128 by 126 by just 13mm, and the
"HD DVD-Writer supports CD, DVD+/-RW, HD DVD-ROM, and single and double-layer HD DVD-R formats. The HD DVD Super-Multi supports all of the above except HD DVD-R."
Each of the drives can easily connect to your PC or laptop and can upscale standard definition DVDs. They are currently available in the UK for £200.
Source:
CNet