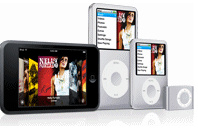 A Florida man is suing
Apple
for violating the Florida Deceptive and Unfair Trade Practices Act by putting technical restrictions on iPods that he claims unfairly restrict competition. Frederick Black is upset that he can't use his iPod with online retailers other than iTunes or easily transfer content purchased from iTunes to other devices.
He's hoping to get his suit certified as a class action, which would include all Florida residents who purchased either an iPod or songs from iTunes since 2001.
Apple
faces a similar suit in Federal court in California, which they've tried unsuccessfully to have dismissed.
According to Black's suit
Apple
restricts the use of iTunes digital media to the iPod or iTunes software. So if the iPod is lost or breaks, the suit says, a consumer
"is forced to repurchase an iPod"
or
"lose the use of the iTunes content."
The suit adds that Apple
"has attempted to maintain monopoly power,"
"has the power to control prices,"
and
"has been able to exclude competition."
At the heart of the issue is something that affects consumers every day, and not just
Apple's
customers. The real question centers around the relationship betwen technology and the law. Regardless of whether DRM is an effective deterrent against piracy, it's clearly effective against the exercise of fair use rights. In the case of the iPod it also appears to be effective in making Apple the 800 pound gorilla of the music download industry.
The important difference with trade related issues is that, unlike most fair use rights, trade and competition guidelines are well documented in written law. Fair use, on the other hand, is a nebulous concept, documented primarily through case law, and therefore subject to a great deal of interpretation.
The irony is that DRM itself is largely a product of trade laws. While the DMCA (Digital Millenium Copyright Act) and EUCD (European Union Copyright Directive) sound as if they're copyright laws, in reality their real authority is related to trade rather than intellectual property. Wouldn't it be ironic if similar laws were used to dismantle it?
Source:
TechNewsWorld