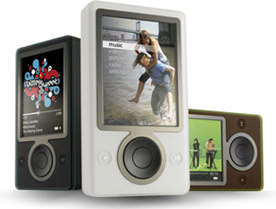 Online retailers
Woot.com
is offering
Microsoft
's
Zune
player for a price of just $129, down from its previous lower-than-average $149 price. To avoid customers being upset about paying the higher price recently, Woot.com will offer customers who bought a Zune at $149 a $10 discount on their next $40 purchase.
"Being in technology for 1+years, give or take a year, I can attest to the fact that the technology road is bumpy,"
Woot
CYA Officer
Larry Stalin
said.
He added:
"There is always some idiot changing lanes without signaling, and the potholes never seem to get fixed. If you always wait for the next price cut or to buy the new improved model, you'll never buy any technology product. I mean, why should you? Truth is, you don't really need any of this junk. We're afraid you'll catch on to that fact and overpaid frauds like me will have to go back into fields like telemarketing and burrito construction."
Source:
News.com