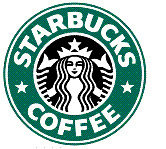 This morning
Starbucks
announced that it plans to give away up to 50 million songs from
iTunes
as part of a large promotion aimed to bring interest to its new wireless music service that is starting soon.
Beginning in New York and Seattle, the popular franchise is set to launch the new service which will allow users that are "browsing the
iTunes Wi-Fi Music Store
near a Starbucks, to view -- and download -- the currently playing song as well as the last ten played."
Apple
and
Starbucks
say the service will be expanding to all stores with wireless access by 2009.
Starbucks said they would be giving away 1.5 million music cards each day from October 2nd to November 7th allowing the holder to download a special "Song of the Day" for free from iTunes. The first song given away will be "Joker Man" by Bob Dylan with a new song being offered each day.
Source:
BetaNews