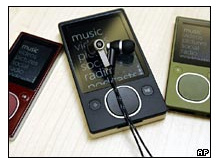 Microsoft
announced new Zune models, and upgrades to the second generation functionality for first generation players, but analysts are saying the company needs to change strategies if they want the Zune to compete with
Apple
's industry leading iPod. The new models include two flash based players - 4GB and 8GB, and another with an upgraded 80GB hard drive.
"This device with the all-too-familiar dial wheel compares reasonably favourably with last generation iPod players,"
said Mark Mulligan, analyst with Jupiter Research.
"Microsoft needs to come at Apple from an unexpected angle but at the moment it is Apple with its new iPod touch and nanos that is shaking up the market,"
he said.
At the launch event for the new Zunes, Bill Gates compared
Microsoft
's current digital media strategy to the company's past work in gaining acceptance for Office, saying
"Twenty years ago we bet the company on an integrated productivity suite of word processing, spreadsheets and presentations, and we changed the way people work."
The problem is that
Apple
has already changed the way many people purchase and listen to music. If
Microsoft
, or any other company, truly wants to compete with iPods or iTunes they'll need to come up with something new to get consumer attention. Until then, the Zune will come off to most as simply an iPod copy.
Sources:
Computerworld
BBC News