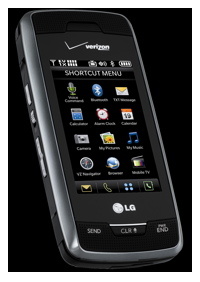 Verizon Wireless
Chief Marketing Officer Mike Lanman has said that the company will be adding four new devices to its lineup of phones set for release in the holiday season 2007. One of these phones, the
LG VX10000 Voyager
he claims will be an "iPhone killer."
"We think it'll be the best phone ... this year. It will kill the iPhone,"
Lanman added.
The device has a 400x240 touch screen but Verizon says it is shaped more like the LG enV than the
iPhone
.
The Voyager's touch screen affords "large icons, and the now-familiar "swiping" motion navigates through an eye-catching UI." It also has a handy QWERTY keyboard which allows the user to handle tasks using either the keyboard or the touch screen.
Verizon also says the phone has "Full HTML browsing, VCAST support, a new mobile e-mail service managed by Verizon, and mobile IM client."
The device also includes an almost standard 2MP camera, a music player, and stereo speakers. The internal memory is expandable to 8GB via
microSD
and the music player can support MP3, Windows Media Audio, and AAC files.
Verizon has one of the largest and strongest networks in the US and it will be good to see this new "iPhone killer" at work.
Source:
BetaNews