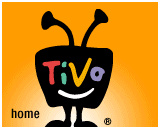 In an effort to distinguish their DVRs from the competition,
TiVo Inc.
had already entered into a deal with
Amazon.com
to offer their Unbox video download service through TiVo Series2 or Series3 DVRs. Now they've announced a deal with the
RealNetworks
and
MTV Networks
owned
Rhapsody America
to allow music from the Rhapsody service to be streamed through them.
Rhapsody is a subscription service that allows listeners to stream an unlimited number of songs from the internet for a monthly fee. Rhapsody also sells standard
MP3
downloads for sale, but this won't be available on TiVos.
Current TiVo subscribers will be be able to try the service free for 30 days. After that it will cost them $12.99 per month in addition to
TiVo
's standard monthly fee.
"This puts us on the map as distinguishing ourselves from other generic DVRs,"
TiVo
's CEO Tom Rogers said.
"We not only facilitate getting Rhapsody on the TV set, but most importantly, the quick easy way to find it, which is how TiVo made its name."
"The big thrust for us is to try to expand the pie, bring digital music to more consumers,"
Michael Bloom, Rhapsody general manager told Reuters.
"CD sales have been in rapid decline. This is one of the ways that we are going to help in that regard."
Sources:
Associated Press
Reuters