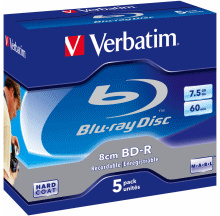 Verbatim Corporation
has brought recordable and rewritable Mini
Blu-ray
media (BD-R/BD-RE) to the European market. The 8cm discs store 7.5GB of data, which is advertised as being capable of storing one hour of high definition (1920x1080) video on a single side, or approximately two hours with a lower
resolution
of 1440x1080. The new Mini
BD
media have been launched in Japan simultaneously with the new Hitachi BD-compatible camcorder in August.
In Europe, the Verbatim Mini Blu-ray media will be available at the beginning of November.
"Verbatim Mini BD media combined with a BD-compatible camcorder provides consumers with convenience features that hard disk camcorders cannot offer"
, says
Torsten Leye
, Marketing Manager Optical Verbatim EUMEA.
"Therefore, the Verbatim high quality media are perfect for the reliable shooting and long-term storing of holiday and family videos."
Like Verbatim's standard (12 cm) BD media, the new 8 cm Mini BD media delivers the highest read/write performance and unsurpassed longevity. Advanced technologies developed by Verbatim´s parent company, Mitsubishi Kagaku Media (MKM), guard against deterioration in picture and sound quality ? even with repeated recording and playback. The proprietary hard-coat finish on Verbatim BD media has superior anti-static and anti-scratch properties for added protection against scratches, fingerprints and dust particles that can occur during normal camcorder and home use.
The recordable Mini
BD-R
costs ?12.99, the rewritable Mini BD-R costs ?17.99 (recommended retail prices).
Source:
Press Release