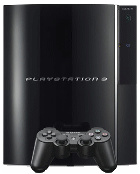 The
PlayStation 3
's latest
firmware
, version 1.94, will finally add support for "rumbling force feedback controllers", a feature that many gamers have wanted since the console's introduction last year.
Although the force feedback
DualShock 3
controllers wont hit North America until at least spring 2008, apparently the recently released "Ratchet and Clank Future: Tools of Destruction" is the first game capable of sending a vibrating signal.
Other games set for release soon, such as Uncharted: Drake's Fortune and Assassin's Creed, will ship with the rumble code built in and current hit games such as "Resistance: Fall of Man" and "MotorStorm" will eventually see downloadable patches that will enable force feedback.
If you really want to try the new features out, you may want to import a Japanese DS3 controller which will hit the market next month.
Source:
Dailytech