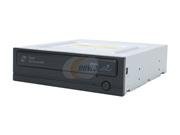 Samsung Electronics
introduced what they're calling the fastest
DVD
burner on the market. The Super-WriteMaster SH-S203N is a SATA burner that writes dual layer DVDs at up to 16x and also has
Lightscribe
support.
"Samsung's new SH-S203N is an all-in-one powerhouse that provides not only the fastest recording speeds on the market, but also built-in labeling technology that saves time and expense over the life of the drive,"
Richard Aguilera, western regional sales manager,
Samsung
Storage Division, said in a press release.
The SH-S203N also offers Speed Adjustment Technology, which
Samsung
says is used to match the speed to the functionality of the disc and Double Optimum Power Control, which is supposed to improve burn quality on the outside edge of the disc.
The SH-S203N has a suggested retail price of $79.99.
Source:
Press Release