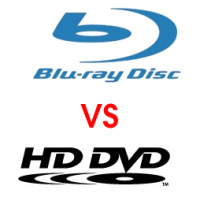 Kmart
has announced that they will be dropping
Blu-ray
players for the holidays due to their high prices. The company will be focusing solely on
HD DVD
instead.
The
HD DVD Promotions Group
said the move was made because
Blu-ray
players "are more tailored to home theater enthusiasts" while
HD DVD
has players under $200 USD available now and most likely for under $150 after Thanksgiving.
Best Buy
is selling the
Toshiba HD-A2
for $179 USD, and other retailers such as
Amazon
and
Circuit City
have it for $198 USD making it by far the cheapest standalone HD player on the market. The
Microsoft Xbox 360
add-on drive meanwhile, is selling for $164 USD with the first season of Heroes, which normally retails for $70 USD.
Sears
, on Black Friday, will be offering the new Toshiba
1080i
HD-A3
for $169 USD with 7 free movies, a deal that should make any interested buyer more than excited.
Will Kmart's decision begin a trend?
Source:
BetaNews