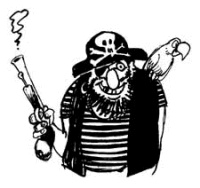 We reported back in August that a Sydney man had been arrested for uploading the first known pirated copy of
The Simpsons Movie
which he had recorded using a mobile phone.
Jose Duarte
, 21, was fined $888 on Tuesday by a magistrate for breaching copyright.
News Corp.
's
Fox movie studios
has tracked the pirate copy back to Duarts's home. Prosecutor
Chuan Ng
said the movie was downloaded 3,213 times in the few hours.
Duarte's lawyer said that he had attempted to upload the movie twice on its release date, July 26th, but that he was sure he failed. He tried to spread the copy of the movie many chorus before it was available in theaters across the world.
"It would appear that this young man had the sophistication of a dead fish,"
the lawyer,
Ken Stewart
, said.
Steward added:
"I have sat and spent time with this young man, ... and I am quite satisfied that he had no idea what he was doing."
Duarte received a fine of 1,000 Australian dollars after pleading guilty to a charge of distributing copyright material in a Sydney Magistrates Court on Tuesday.
Source:
Yahoo (AP)