Back in January,
Interact-TV
had announced the launch of a device called
MyTellyHD
which ran on
Linux
and allowed you to store your media on one convenient device. Well, the company has outdone themselves with offering to the public a media storage center capable of holding up to 3.75TB (yes, thats TeraByte) of digital files for your multimedia needs. At current standards, some 750 DVDs could conceptually be stored on this device.
Space wasn't their only concern as they designed it to play well with another product they created called TellyVizionHD which would then allow you to setup a rather limitless storage
DVR
system.
Inside this device, you'll find no fans to keep it cool as it apparently doesn't need them, which will in turn make for silent operation within your entertainment center. Aside from that, you can expect 5 linked 750GB Seagate hard drives connected via eSATA for fast and reliable data transfer. On the blue back-lit display, there is a space left for overheating warnings so you'll know if you're about to cook your device.
No word on price or availability just yet.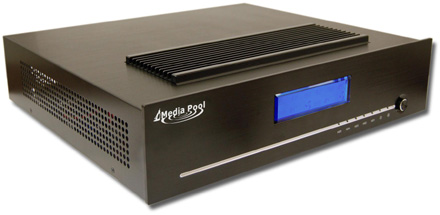 Source:
Engadget