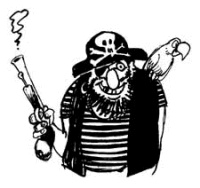 In an interview before he got up on stage in Oslo, Curtis Jackson, better known as the rapper
50 Cent
, made a few notable comments about file-sharing, even going as far as to say
"What is important for the music industry to understand is that this really doesn't hurt the artists!"
It is important to mention that 50 Cent is not some small, up and coming artist. He has sold over 20 million albums as a solo artist and owns his own record label, G-Unit Records.
During the interview, 50 was asked "How are G-Unit Records doing in these times of file-sharing?


"Not so good."
he responded.
"The advances in technology impacts everyone, and we all must adapt. Most of all hip-hop, a style of music dependent upon a youthful audience. This market consists of individuals embracing innovations faster than the fans of classical and jazz music."

"What is important for the music industry to understand is that this really doesn't hurt the artists."
For years now, anti-piracy groups such as the
RIAA
have gone on about how file-sharing hurts not only the industry, but the artists as well. 50 Cent clearly does not agree.


"The concerts are crowded and the industry must understand that they have to manage all the 360 degrees around an artist. They, (the industry), have to maximize their income from concerts and merchandise. It is the only way they can get their marketing money back."

He finishes up: "The main problem is that the artists are not getting as much help developing as before file-sharing. They are now learning to peddle ringtones, not records"
he added.


"They don't understand the value of a perfect piece of art."
Source:
TF