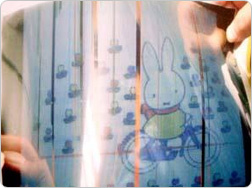 According to local reports, Taiwan's
Industrial Technology Research Institute
has assembled an ultra thin, flexible 10.4 inch display.
"Closely resembling e-paper, the ITRI's prototype is actually a new form of cholesteric LCD, with thickness reduced to half at less than 0.4 inches."
The "flexibilty" of the display comes from using two plastic substrates instead of glass, allowing the display to curve.
The monitor does have its drawbacks, however. Blank spaces may appear and it uses a 57 percent
NTSC
gamut, a gamut much less than that of conventional desktop monitors.
Source:
electronista