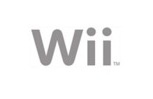 Justin Rattner,
Intel's
the company's chief technology officer, has suggested in an interview that the next generation of the
Nintendo Wii
will not have controllers.
"We imagine some future generation of [Nintendo's] Wii won't have hand controllers"
, Rattner said.
Rattner also suggested that camera technology using sensors around a room to detect player movement would replace the hand controllers.
He explained:
"You just set up the cameras around the room and wave your hand like you're playing tennis".
The interview went on to talk about ongoing discussions between Intel and leading games and computer manufacturers including
Sony, Microsoft
and
Nintendo.
Source:
pocketlint