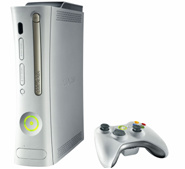 Microsoft Corp.
has re-affirmed its sole dedication to the
HD DVD
format, despite comments made during this year's
Consumer Electronics Show (CES)
in Las Vegas. Over the past couple of weeks, there has been a lot of attention on the format war between HD DVD and
Blu-ray
following the decision by
Warner Bros.
to support the Blu-ray format exclusively.
Ever since then, there has been rumors and speculation about what studios or corporations would be willing to switch sides or drop a neutral stance, and several did. Comments made by Microsoft's group marketing manager for Xbox hardware,
Albert Penello
created a bit of a stir after being asked by Reuters if Microsoft would ever offer a Blu-ray accessory for the Xbox 360.
"It should be consumer choice, and if that's the way they vote, that's something we'll have to consider,"
he responded. With the previous decision by Warner Bros. and then speculation that
Universal
and
Paramount
were getting ready to drop HD DVD too (both denied), the comments could not have come at a worse time for the HD DVD group.
However, Microsoft has now stated that the HD DVD format is the only format to deliver quality experiences at affordable prices and that there are absolutely no plans at all for a Blu-ray drive.
Source:
Reg Hardware