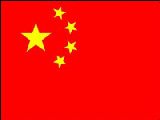 In a move brokered by the
Movie Copyright Protection Assn. of China
, 50 Chinese websites including the popular China.com.cn, People.com.cn and 163.com, have all agreed to stop providing access to pirated movies.
In exchange, the sites will co-operate with Quacor.com to distribute legal online movies. A recent survey has confirmed that at least 30,000 Chinese websites "provide access to visual arts" and that over 61 percent of Chinese web users watch movies online without paying.
Li Guomin, vice-chairman of the association, has said that growing piracy is damaging China's local film industry.

"If these infringements continue, producers might simply stop making movies altogether. And then 162 million Chinese netizens will lose the service they have now,"
Li added.
Source:
Variety