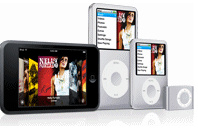 While levies are imposed on certain items in Canada like blank
CD
media and cassette tapes, an ongoing effort to bring such taxes to
MP3
playing hardware and flash memory cards has failed yet again in the country. Yesterday, the Federal Court of Appeal rejected a decision by Canada's Copyright Board to collect fees from the sales of MP3 players in order to compensate artists for lost revenue from private copying.
The proposed tax included CAD5 on digital audio players with 1GB storage or less and CD75 on digital audio players with upwards of 30GB storage space. Canada's
Private Copyright Collective (CPCC)
lobbied for the tax again in 2007, after the proposal saw generally no success since it was brought up in 2004. The Copyright Board agreed with the CPCC's claims and was set to impose the tax in 2008.
"The Copyright Board erred in law when it concluded that it has the legal authority to certify the tariff that CPCC has proposed for 2008 and 2009 on digital audio recorders,"
the Federal Court of Appeal said in its decision.
Source:
The Register