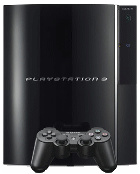 When the
Sony PlayStation 3
launched in November 2006, many
criticized
its expensive price and its inclusion of an internal
Blu-ray
drive.
It was not only consumers that felt the
squeeze
however. The industry group
iSuppli
estimated last year that the initial cost to manufacture the 60GB unit was $840.35 USD, way higher than even Sony was charging for the console meaning the company was losing hundreds of dollars per console.
A year later however, Sony has managed to close the gap a substantial amount although they are still losing money.
BusinessWeek
reported this week that the PS3 now costs around $400 USD to manufacture and that Sony will only lose $1.4 billion USD in its gaming division for 2007 compared to $2.1 billion USD for 2006.
Production cost drops have been attributed to a few new advances in technology as well as higher supply. Firstly, the
Cell
Broadband Engine chip was shrunk to 65nm. The blue-violet laser diodes used for the
Blu-ray
drive have also seen a huge increase in yield and supply. Sony also removed the backwards compatibility engine for
PS2
titles from its 40GB unit, dropping production costs even further.
Sony Entertainment boss Kazuo Hirai explained at
CES
that the gaming division hopes to be profitable by the next fiscal year.