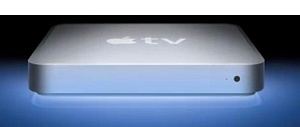 According to Pocket-lint
, despite Steve Jobs' admission that the
Apple TV
has so far not been as successful as the company had hoped, they will not be dropping the price of the device in Europe.
Recently, at the
Macworld
event, Jobs launched Apple TV 2.0 which has an upgraded user interface along with the ability for American users to rent movies in SD or HD via the internet. Along with the
firmware
upgrade, US users also saw a drop in price for the device, from $299 to $229 USD.
European users will see the firmware update (minus the movie rentals), but not the price cut. In the UK the device sells for £199 for the 40GB version and £269 for the 160GB version repsectively.