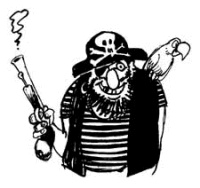 Music sold worldwide had a substantial decline in 2007 and fell faster than 2006 even while digital distribution sales have been seemingly soaring. As is the usual argument, the industry is claiming that they need to adopt a model that better protects against piracy if they are to reclaim sales of music.
Digital distribution sales rose some 40 percent in 2007, but it wasn't enough of a margin to offset the decline in physical media sales. With how fast and sharp CDs fell off the market, the industry as a whole is looking at a 10 percent loss overall. In response to this, industry leaders are contacting Internet Service Providers and encouraging them to take a stronger stance towards allowing the rampant illegal file sharing that occurs over their networks. They wish to discuss plans to either disconnect those who upload music or provide a medium to prevent the download of illegal music. Most ISPs have been reluctant to give into these types of suggestions, but the industry hopes they will take note of a recent move by
French President Nicolas Sarkozy
. The President has mandated that Internet traffic is to be blocked to those found to be frequently downloading illegal wares.
IFPI Chief Executive John Kennedy told Reuters
, "
It is hard to persuade anyone to be a pioneer but what we have with the French government is a very energetic government understanding how important the French music industry is to French business and culture. That leadership shows that it's not as dreadful or as problematic as people think.