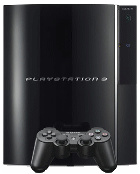 Sony Europe has told GI.biz
that they have no plans to introduce a
120GB or 160GB
model of the
PlayStation 3
in the UK.
An internal
Best Buy memo
showed that supply of the 80GB model was being cut and since then rumors have exploded across the internet that
the US will see a 120GB version for the same price as the disappearing 80GB
. Sony has yet to confirm or deny the rumors however.
In the UK though, the story is different.
"We do not currently have any plans to release a 120GB PlayStation 3 in the UK,"
added a spokesperson for Sony Europe.
The rumors are not all that far fetched as in the past Sony has implied that it would consider PS3 models with larger hard drives if consumers demanded it.