Finnish software house
Joikusoft
released today an application that allows
Nokia
smartphones to act as Wi-Fi hotspots. The simple piece of software turns your 3G phone into an access point which is able to share internet connection for multiple users simultaneously. The wireless Internet connection can be used with laptops,
iPod
s,
iPhone
s, and other Wi-Fi enabled devices.
The application goes by the name
JoikuSpot Light
, and is at the moment in beta
Phase
. To use the software you need a Nokia 3G phone (
N95 8GB, N95, N93i, N91, N82, N80, E90, E70, E61i, E61 and E51 are listed as supported devices
), the latest
Firmware
for your phone, and of course the application itself.
JoikuSpot is entirely free to download, but it doesn't feature any kind of security or encryption options, so be careful when sharing your 3G connection in a public location. You can observe the traffic and clients using your JoikuSpot access point from the application's user interface.
JoikuSoft is going to add encryption support for the final version, and the company is also considering a chargeable version of the application.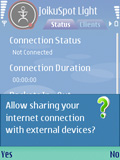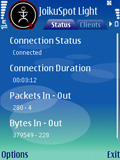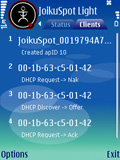 Eight step tutorial to set up your iPhone / iPod Touch 3G connection
:
1. Download the latest firmware to your supported Nokia 3G phone
2. Install the firmware
3.
Download JoikuSpot Light
4. Install JoikuSpot Light
5. Start the software from the application folder of your phone
6. Start up the service by choosing the correct 3G connection
7. Go to you iTouch/iPhone Wi-Fi settings and choose the network (JoikuSpot_...)
8. Enjoy!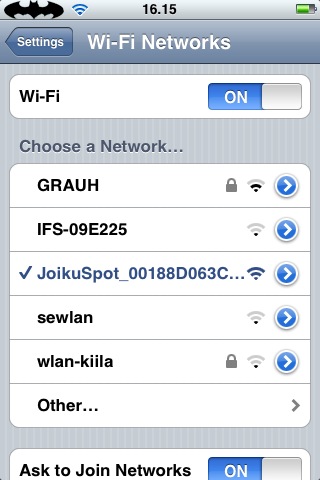 AfterDawn.com Hardware Section
AfterDawn.com Hardware Section