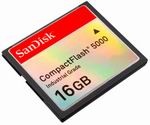 SanDisk
has announced that it has doubled the capacity of its
CompactFlash
5000 flash memory cards for industrial markets. The cards provide a high level of durability as well as high read and write speeds, and the extra capacity makes it a more suitable accessory for mission-critical applications including medical instruments, military applications and gaming systems.
The new 16GB CompactFlash card was unveiled at the
CeBIT
trade fair in Hannover, Germany this week. An 8GB version of the product was unveiled last spring. It is designed by SanDisk to achieve a sustained read and write performance of up to 30 megabytes (MB) per second. It supports a transfer mode of up to UDMA 4, an industry standard that enables high data transfer rates and includes performance boosters and on-the-fly error detection.
"There's a substantial market for this type of industrial-strength card in mission-critical applications, especially those in harsh environments,"
said
Scott Deutsch
, vice president of
OEM
sales and marketing for SanDisk.
"In addition to providing high-performance and high-capacity, the CompactFlash 5000 is a mass storage solution that can be trusted to meet the demands of industrial users and applications."
Using SanDisk's patented flash management technology - such as back block management, error detection and error correction code (EDC/ECC), the card provides reliability even in extreme temperatures that can range from -13 degrees to 185 degrees Fahrenheit (-25 to +85 Celsius). It is available in fixed or removable configurations.