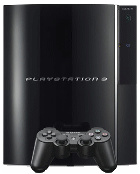 According to reports floating around the net, of which sources include
PC World
, the upcoming
firmware
update for the
PlayStation 3 (PS3)
console would allow a
"Portable Copy"
feature for the
PSP
. Basically, the feature would allow owners of a PS3 and a PSP copy a standard-definition version of a movie from a
Blu-ray
disc to the PSP's MemoryStick DUO. One could assume that if was true, these copies would be protected somehow.
What isn't part of the report however is exactly
"how"
this would work. Would it be a standard-definition copy of the movie on a Blu-ray disc that can be directly downloaded to the PSP (or other supporting portable device) -- as has been reported and demonstrated -- or could the PS3 itself be used to create an
SD
copy from any currently available Blu-ray title? The latter is probably unlikely, but the former has been known to be in plans for quite a while.
However, don't get celebrating just yet, as apparently
Sony Computer Entertainment America (SCEA)
recently contacted
Kotaku
to deny that this feature would be available with the next firmware update, so we can probably scratch this one too. The rumors may have started as a result of the
CES
2008 demonstration of this exact feature and Sony's announcement then that the feature would arrive
"with"
BD
Live, so at least it was probably a good guess and not just another baseless rumor.
The update makes the PlayStation 3 (PS3) technically the first
Profile
2.0 Blu-ray player, providing support for Internet content amongst other extra features. It also improves the support for
DivX
and
WMV
playback, and will provide new Internet browser and additional A/V settings.