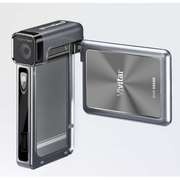 Vivitar has announced
the upcoming launch of the
DVR565HD
High Definition
Camcorder
which should hit retailers by the end of April.
The company did not give all that much information on the upcoming camcorder but did say it will "record in H.264/MPEG4 high definition at
720p
with a
Frame
rate of 30
frames per second
, plays back at
1080i
and comes complete with
HDMI
cable for playback on
HD Ready
TVs."
The device will be available in two colors, silver and black and will be "compact in shape and size". The camcorder will have a 3-inch flip out color display, "a rechargeable lithium ion battery and will support
SD
cards up to 4GB."
More information when it becomes available.
---
Get regular news updates from AfterDawn.com by
subscribing to our RSS feeds
using the
Subscribe
button below. If you have been living in a cave for a few years now and don't know how to use RSS feeds, then
Click Here to read a Guide on how to use RSS (and other) feeds
.