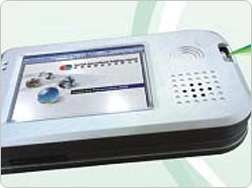 The Hong Kong based manufacturer
Sunlink
, using technologies adapted from
iView
, have
claimed they have produced
"the first portable commercial product in the world with a built-in pico-projector."
The media device, dubbed the
Sunview PMPP
will have a 3.5-inch touchscreen and will have the ability to output images onto walls and projection screens using the integrated pico technology.
Other companies, such as
MicroVision
have been actively working on such projectors but have not been able to get them into commercial devices.
The Sunview will store file on removable
SD
cards and "due to its use of Windows CE 5.0 and Office Viewer, can play photos, movies and presentation files." Each player has a remote so that users can control the player from up to 20 feet away.
There was no word on when the player would go on sale or a price tag.