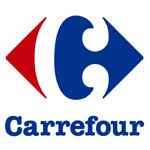 France's largest retailer, the Carrefour Group
has announced
that they will be launching a movie download service that will allow customers to buy or rent movies and TV episodes.
The Group operates supermarkets and grocery stores around Europe that carry DVDs but wants to "expand its focus on entertainment, bringing it closer to customers."
Carrefour's international non-food chief, Christophe Geoffroy, said the "shopping experience would be simple and fast, with downloads taking about 3 minutes," probably meaning that most videos could be streamed. He also noted that VOD (video on demand) market in Europe was not currently great but growth was expected. He cited analyst research which predicts "Europe's movie download market will be worth over about 690 Euros (over $1 billion) by 2011."
The announcement follows
Tescos similar announcement last week
in which they launched a music and video download site focusing on
MP3
albums.