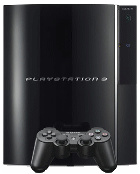 Thanks to an
apparent leak by Amazon
there is now some information available on the availability of
Sony's PlayTV
add-on for the
PlayStation 3
.
The PlayTV will turn any PS3 into a "fully-fledged digital (or personal) video recorder." Amazon has it with a July 31st release date and with a price tag of £59.99. The gadget will boast "dual TV tuners, so all current Freeview channels will be available, and offer a 7-day EPG."
TV programming can then be recorded to the PS3s HDD and played back whenever you choose.
Sony
however, has denied official comment on the release date or price.


"We have yet to make an official announcement with regards to the release date and price of PlayTV in the UK, and we do not comment on rumour or speculation," said a Sony spokesperson.