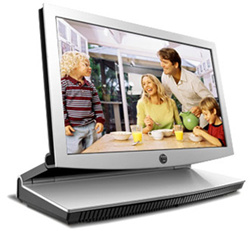 Westinghouse has announced today
the launch of its "flexible"
PT-16H610S
HDTV
.
The TV is dubbed by the company as a "Flexible Lifestyle Display" and is built around a 16 inch LCD display that has
720p
resolution
of 1366 by 768
pixels
. What gives the display its name is the TVs mounting and adjustability options. It can be hung upside down or mounted on a wall, thanks in part to its dual hinges and a display image that can rotate by 180 degrees.
The
16:9
widescreen
aspect
ratio TV has component and
HDMI
inputs as well as a built-in
ATSC/NTSC/ClearQAM
tuner. A new anti-glare coating makes images "visible even in bright conditions." Another interesting feature is that there are no buttons and the display has a
touch
keypad instead. When not in use the TV conveniently folds flat to take up less room.
The company says the TV is available for pre-order at all
Target
stores in North America only with a $290 USD price tag.