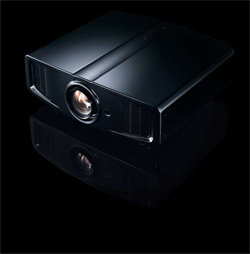 Showing at its booth at the
High End
trade show in Munich,
Pioneer has unveiled its latest HD projector
, the
KURO KRF-9000FD home theater projector
.
The "Liquid Crystal on Silicon (LCoS) KRF-9000FD is capable of displaying 1920x1080 pixel
progressive
video at sizes up to 14.5 by just over 8 feet." This is comparable to a 200 inch TV with even the minimum projected image about equivalent to a 60-inch TV screen.
The unit also uses a 2x motorized zoom lens allowing large images to be displayed in smaller rooms. The unit also boasts an impressive contrast ratio, 30,000:1. Another plus is Pioneer's focus n reproducing true blacks, which is seen in all its KURO line.
The company also claims great flexibility, "thanks to a lens that allows 80% vertical and 34% horizontal adjustments without affecting the image, leaving it square on the wall or screen. The native
aspect
ratio is
16:9
and movie theater-like 2.35:1 is supported. Brightness is rated at 600 ANSI lumens."
There are two
HDMI
ports, and one component, composite and
S-Video
, as well as a PC-friendly RS-232C jack.
The projector will be available in Europe next month for about 8000 euro, and there is no word on a North American release yet.