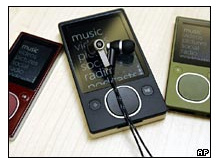 The huge video game retailer
Gamestop
has announced
that it will discontinue selling the
Microsoft Zune
citing its "poor performance in terms of sales."
In its initial six months, Microsoft sold 1 million units but since then, and despite a complete line revamp, sales have slowed to a crawl. It has taken another year for Microsoft to reach 2 million units sold for its Zune line, a considerably slower
pace
for sales.
Despite at one point being the top seller on
Amazon
for
MP3
players, the Zune has failed in comparison to
iPod
sales. For the Q2 2008,
Apple
had sold roughly 11 million of the popular media devices.
Ignoring Gamestop's decision, Adam Sohn, Microsoft's Zune marketing manager, said Zune sales "have seen good momentum" for the last few months.