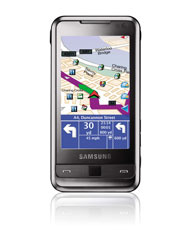 Although you might not know if from the news,
Apple
's new iPhone 3G wasn't the only new smartphone to be introduced on Monday. The new
Samsung
OMNIA runs Windows Mobile 6.1 and features a 3.2 inch wide touchscreen. Like the new iPhone it will be available in either 8GB or 16GB versions, but it also adds a microSDHC expansion slot for additional storage.
The OMNIA, which will be officially unveiled at CommunicAsia later this month in Singapore, includes a 5 Megapixel camera and
GPS
funtionality in addition to supporting audio and video playback in a number of formats.
Supported
video formats
include
MPEG
-4 ASP (
DivX
,
Xvid
,
Nero Digital
, etc,...),
MPEG-4
AVC
(
H.264
), H.263, and
WMV
. Audio support includes
MP3
,
AAC
,
WMA
, and
OGG
. Besides playback, it can also be used for simple video recording and editing, and even has a built-in FM radio.
Although the iPhone has arguably made a bigger impact in the smartphone market than any other single product, it would be foolish to say
Apple
is the undisputed leader. In fact
Research In Motion
(
RIM
), makers of the Blackberry line of phones, has benefitted greatly from the increased visibility of the entire smartphone market due to
Apple
's success and they
still control nearly 50% of the market
.
While not as successful as either
RIM
or
Apple
,
Samsung
's share of the market rose from just over 5% to more than 8% at the end of last year.