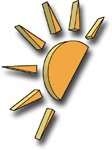 Wow. It is exactly nine years now since our site was launched to public for the first time. In the world where thousands of websites get launched each week and thousands of sites fold as well, it seems like an eternity. And how amazing these years have been..
During the last year, our site has managed to grow in many ways -- we have reached new all-time records with our traffic, our Finnish site is now Finland's largest IT site, we've launched
Swedish version of AfterDawn
, launched
product comparison service
, installed fleet of new servers to support the continuous growth of the site, etc. Simply put, the growth continues. Next year we'll be celebrating our 10th birthday, which seems unbelievable. Something that began as a hobby project, has grown into a project that reaches millions of people, month after month.
Now, I wont bore you further, but would like to thank all of my fellow admins, our excellent team of forum moderators and of course, all of our users, for making this site possible.
On behalf of AfterDawn,

-Petteri Pyyny