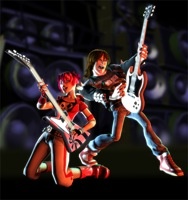 According to a new report published in the
Financial Times
, the
Beatles
are currently in discussions with both
Activision
and
MTV
in an effort to bring licensing for the band's music to video games, most notably
Guitar Hero
and
Rock Band
.
The sources imply that any deal would be worth "several million dollars" and that the licensing deal could be struck within a matter of weeks or months.
One possible hurdle for the deal is that it needs to be approved by
EMI
who owns the master recordings for the band.
Apple Corps
will also need to sign off as they are in charge of the Beatles business interests.
Apple has been very selective with expanding licensing for the band and currently there are no authorized digital recordings of the Beatles available online.