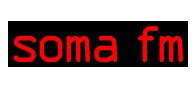 SomaFM
, an ad-free internet radio provider, now supports
streaming
to the iPhone and iPod Touch. By simply opening their main webpage at www.
SomaFM
.com in
Safari
on your iPhone or iPod touch you'll be directed to a custom portal where you can access their streams optimized for either
AT&T
's EDGE network or a Wi-Fi connection.
"We've been expanding our availability on wireless devices, and are excited to now be iPhone accessible," said SomaFM's Rusty Hodge. "The iPhone was one of the last mobile devices that we didn't support, and we've been getting a lot of requests for it."

SomaFM's streaming service doesn't require an unlocked iPhone or iPod Touch to work. It uses standard features included with the official iPhone software. Their programming is also available on internet radio devices from Sonos, Roku, and Slimdevices.

"Our goal continues to be able to connect with our listeners whether they're at their desk, in their car or at a local coffee shop," said Hodge. "As new mobile devices become available, we will work hard to develop the technology to enable SomaFM programming to be available through them."