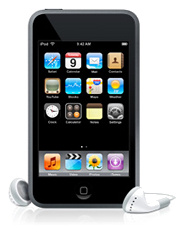 The iPod Touch is something of a marvel of modern technology. But for all its technical brilliance it has one glaring flaw. Replacing the battery is practically impossible.
While previous iPod models haven't exactly been designed in a way that makes the batteries easy to replace, with a little research and a the right tools it's fairly simple. In the case of the iPod Touch the soldered battery connection increases the difficulty level substantially.
As an alternative to sending your iPod Touch to
Apple
where it would be replaced with a different unit, causing you to lose any media or software on it, you can send it to a company called
Milliamp Ltd
instead.
Milliamp
's technicians will install a replacement battery that they guarantee for 10 years, and now they'll even get it done in a day. The best part is the price, which is about 3/4 what
Apple
would charge you.
As an option you can simply order the battery to replace it yourself, but
Milliamp
won't provide any instructions or support so it's not recommended unless you have a lot of confidence that you know what you're doing.
You can find more information on
Milliamp's website
.