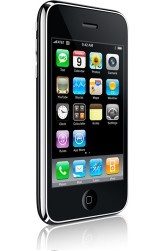 Today marks the launch of both
Apple
's iPhone 3G and the
iTunes
App Store where developers can sell programs built using the iPhone SDK. Unlike the original iPhone, the new model is being launched simultaneously in 24 countries spread across 4 continents, including the US, UK, Japan, Australia, and of course
Afterdawn'
s home country of Finland.
The iPhone 3G is different from its predecessor, with new features including support for 3G mobile internet connections and
GPS
. It also has a new version of the iPhone OS, a compact version of OS X, which includes support for the brand new
iTunes
App Store. Owners of first generation iPhones can update to the new version of the OS for free. If you happen to own an iPod
Touch
there's an update available for you as well for $9.95.
As Steve Jobs
announced a month ago
the 8GB iPhone 3G is available for $199 in the US. It's being sold exclusively for use with
AT&T Wireless
, unless you happen to be an existing
AT&T
customer whose current contract isn't eliigible for a discounted new phone yet. Exceptions to this are being made for people who bought the first generation iPhone prior to today. There will also be a $36 activation fee for new customers, while existing customers upgrading will pay $18.
AT&T
customers not eligible for a discount will pay $399.
Purchase of the iPhone 3G requires a 2 year contract that includes unlimited data (internet) along with as little as 450 minutes of talk time per month for $69.99 all the way up to unlimited minutes for $129.99.