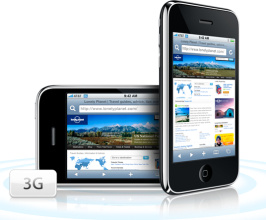 If you bought one of the new iPhone 3G's that were
officially launched today
you may have been unpleasantly surprised to find that it couldn't be activated due to
Apple
's servers being overwhelmed. Perhaps this shouldn't come as any surprise considering the same thing happened last year
when the original iPhone launched
. No doubt many had assumed that experience would have guaranteed
Apple
would have taken measures to avoid it this time around.
And the issue isn't limited to new phones either. Owners of the original version who decided to take advantage of the free upgrade to the new software version in order to use the new
iTunes
App Store are also having problems. Like the new phones they must be activated after installing the update, turning a number of iPhones already in use into significantly less useful iPaperweights.
For those who didn't download the update early this morning it's proving difficult to even download it. When I tried to purchase the update for an iPod
Touch
I received the following error (about 50 times over the course of a few hours).
Apple
was aware of the problem, as is evidenced by the email I received from their support team saying
"The new update software 2.0 released today '07/11/08' because of this our server is busy and not everyone is able to connect to download."
The support email also reassured me that I would
"be able to download this shortly."
Apparently their definition of shortly is a little different than most. I've stopped getting errors trying to download my iPod update, but it's still not downloading anything. That's using the links from the
Apple
webpage.
iTunes
is now telling me that I already have the most recent version.
As I've been writing this I see that Engadget has
been told
by AT&T the activation servers are back up, but my iPod update problems continue.