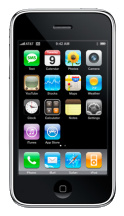 Whatever your feelings about the iPhone, it has had a major impact on the web browsing habits of owners. A new
comScore
report inidicates that 80% of iPhone users in France, Germany, and the UK use their phones to browse the web. By contrast, only 32% of those using other smartphones use it for browsing.
Perhaps just as interesting is that more than half of those browsing the web on their iPhones are using them to visit social networking sites. That's not just more then the 3% among other smartphone owners, but also significantly higher than the 10% of all mobile phone owners who visit those sites via other means. Of course that's not entirely surprising given the younger demographic shared by both social networking participants and iPhone owners.

The web features of the iPhone seem to be just as important to its owners as playing music. While 70% used it to listen to music, a nearly identical 69.5% used it for email.