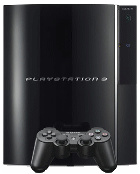 Sony
recently announced at the
E3
event that they were phasing out the 40GB model of the
PlayStation 3
as well as dropping the price on the higher capacity model by $100 USD. That announcement however, was only relevant for those living in North America.
The word has now come down from Sony Europe boss David Reeves that the 80GB PS3 will be headed to Europe, the Middle East, Africa, Australia, and New Zealand beginning on August 27th. Russia will get the
console
two weeks later.
The model will cost €399 in Europe and £299 in the UK. The pricing schemes were not revealed for the other territories yet.
Reeves confirmed that Sony Europe was also phasing out the 40GB model but there was only "a small number left in the
channel
" anyways. The new range of Platinum hits, just as in North America, was revealed including the hit games
Resistance: Fall of Man, MotorStorm, Uncharted: Drake's Fortune, Virtua Tennis 3,
and
Assassin's Creed
coming with reduced prices on August 1st. The Platinum games will cost €29.99 in Europe, £19.99 in the UK, A$49 in Australia, and NZ$59 in New Zealand.
Unfortunately for those not in North America, Reeves added the new PSN Movies store would not hit Europe in 2008.

"This will not come to the PAL markets this year, but Sir Howard Stringer has made the commitment that non-games will come to all regions in due course and it will. The dates for video content will come later this year. For us, and I think you appreciate most of you European, that local content is important, and that's what [we are] working on right now,"
Reeves
said.