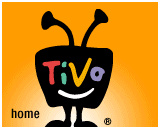 TiVo
has a new deal with
Amazon.com
to integrate TV viewing with online shopping. This new feature allows viewers to order products from participating companies directly from Amazon using their
TiVo
remote control.
The general idea is for products like books or albums that are being promoted on various TV shows. Information on available products related to a particular show will be shown after playback, giving the viewer a chance to buy them right away.
Products will also be listed in
TiVo
's Universal Swivel Search in case you want to buy a product without recording or watching the program its featured on.
"Product Purchase adds a whole new dimension to the TV viewing experience,"
said Evan Young, Director of Broadband Services for
TiVo
Inc.
"By teaming with Amazon.com, TiVo enables viewers to purchase products related to their favorite TV shows or that they've seen in TV ads without leaving their couch."
He added,
"Television advertisers and consumer products companies are no longer limited to the traditional linear shopping channels that require live viewing for product merchandising and fulfillment -- if their product is seen or advertised on any TV show or network, and sold by Amazon.com it can be merchandised to viewers through TiVo."
Last March the two companies
began a partnership
to make titles from Amazon Unbox, a service that makes movies and TV shows available to download from
Amazon.com
for either rental or purchase.