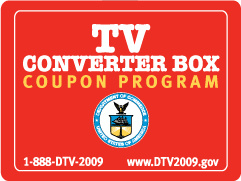 If you are one of the millions of Americans who have
received a voucher
for a government subsidized
DTV
converter you may be thinking you can just drive down to the store and pick up the unit you want. As I've recently found out first hand it's not quite that easy. The availability and selection of converters isn't nearly as good as the public service announcements make it seem. In fact you might not be able to find what you need locally at all.
Let's start with supply problems. After spending the better part of an afternoon tracking down a store near me that actually had them in stock, I've been calling various local retailers weekly to find out if this was simply a fluke. It's not.
In fact when I've inquired at various
Walmart
,
Target
, and
Kmart
locations the answer has been that they're out of stock most of the time. In just a couple of cases they indicated that the units come in at least once a week. At the majority of these national chain stores they apparently only receive them sporadically, and most of the time they fly off the shelves, often in less than a single day.
The good news for me is that I was able to find one retailer that seems to have them in most of the time. Based on my admittedly unscientific research it seems that
Best Buy
is doing a much better job of keeping DTV converters in stock. Although there isn't one in the area, I've also been checking
Circuit City
's website and they also appear to have them in stock as a general rule.
I contacted
Best Buy
and
Walmart
hoping to find out if there's a shortage of coupon-eligible converter boxes.
Best Buy
's Brian Lucas was quite candid about the situation, indicating that they experienced a shortage in July, but have since dealt with the issue. He said the problem was a result of upgrading to newer models with more features.
He also assured me that even if they run out at your local
Best Buy
you can order over the phone and still use your voucher. Their DTV Hotline and Order Center can be reached by calling 1-877-BBY-DTV9 (1-877-229-3889).
Walmart
was less responsive. Although a company representative told me she'd look into the problem and let me know if there's some sort of supply problem, after four days no one has gotten back to me with any information.
S-Video
Now for the really bad news. If you're looking for a box with S-Video support your choices are even more limited. The only store I contacted where a DTV converter with S-Video out was even sold was
Best Buy
. Even if one of the other stores happened to have a box in stock they would be unsuitable for my use since I would be forced to switch my home theater computer to a
composite video
connection.
Analog pass through
If you happen to live in an area where low power broadcasts are available you may find that not all the local broadcasters will be upgrading to digital. In order to receive both analog and DTV signals you'll want a box that can tune DTV broadcasts while
passing analog signals untouched
to your TV. This feature, known as analog pass through, is only available on a few newer converter boxes.
I found converters with analog pass through at both
Best Buy
and
Circuit City
. Of course if you want both S-Video and analog pass through
Circuit City
's boxes won't do the job.
Why the rush?
Maybe you're asking yourself why worry about it now? After all there are
nearly 200 days
until analog signals are turned off next February. You have all kinds of time right? In fact that depends on how confident you are about receiving the DTV signals in your area.
Unlike analog signals, DTV transmissions suffer from something called the cliff effect. While analog TV reception gets gradually worse as signal quality degrades, DTV reception goes straight from excellent to no reception. If analog reception is anything less than spectacular where you live there's good reason to be concerned that you won't be able to watch the same channels in digital form without
upgrading to a better antenna
; perhaps even to a roof mounted unit.
If you've ordered a voucher from the federal government the clock has already started ticking. Vouchers are only good for 90 days from the issue date. If you wait until the last minute you may have a hard time using yours before they expire.
The best advice right now is be prepared. There's no need to panic, but that doesn't mean the picture is as rosy as the FCC
would have you believe
. If you watch
over the air
broadcasts make sure you're ready to receive them well in advance of the transition and you should be fine.
Update:
Hobbit112 correctly brought up my omission of Radio Shack as a national retailer carrying DTV converters. Like the majority of retailers it seems they often don't have them in stock, but unlike most they can and will order one for you at no charge. Like Circuit City's converters they feature analog pass through, but not S-video.